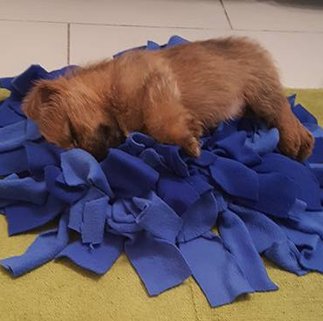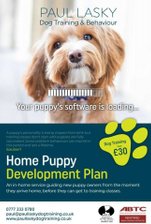 1-2-1 Puppy Development Plan
***SPECIAL MESSAGE*** Please book your puppy development plans in advance, ideally as soon as you know your going home date. There may not always be availability if you leave it until it's urgent. Thank you.********************************
Puppy development plan £145 one off payment

-What is covered: biting, toilet training, equipment, socialisation, phobias, avoiding aggression, walking outside, interaction with children, other dogs, feeding, basic training tasks such as sit, down, stay, leave. This will be prioritised in the order that the client wants / needs.
-2 X 1 hour face to face sessions in your home spread out by a few weeks so you have time to practice in between.
-Online support between paid sessions via Email or WhatsApp, which I pride my service on. This support starts as soon as you pay and I encourage you to use it. (Replies each morning between 7:45am and 9:30am).
-Written materials including session summaries and info sheets where required
-Prices may vary due to driving time
-Saturday's +£10
-Although I do not try to sell clients sessions that they do not need, further pricing is at a discount as follows:
£70 per hour
-Puppy socialisation and mixing sessions, where your puppy gets to interact in a supervised and learning based fashion, with other puppies and dogs, is £40 an hour. Minimum 2 dog, maximum 6 dogs. See puppy classes page.